A 10K capacity pilot festival to help open up live music
18th - 20th June
Downloaders, we couldn't be more hyped to announce that we will be running a pilot event as part of the second phase of the Government's Event Research Programme. It's gonna be a 10,000 capacity camping festival in Donington Park!
Everybody on site will have taken a lateral flow test before entry and received a negative result and will have taken a PCR test too. That means you'll be able to mosh, dance, hug your fellow Downloaders, and rock out without a mask or social distancing. Frankly, we can't think of anything that sounds more awesome after 15 months away from our hallowed ground.
Researchers from Public Health England will be overseeing the study. They will be gathering data on transmission risk, the suspension of social distancing and face coverings over several consecutive days. This data will help to ensure that events later this summer can go ahead safely.
There's certain criteria the science bods need you to fulfil for their research (being over 16 is one example). Anyone who wants to attend will need to read and agree to a consent document first to ensure they understand the research process and meet these criteria before they can buy a ticket.
To say thank you for sticking with us through these tough times, Download 2022 ticket  holders will be given first dibs for 48 hours on tickets for the pilot event.
You'll need to take a Lateral Flow Test at home and it has to be negative for you to enter the event. If you test positive, don't worry – you'll be refunded. The researchers also need you to take a PCR test and drop it in a Priority Post Box before you get to the event. All you need to show at the gate will be your ticket, matching ID and your negative lateral flow test result (this will be shown as a text or email from the NHS). Five days after the event, you'll be asked to take a second PCR test and send it back to the ERP. These post-festival tests are really vital to the research and you must send yours back!
We've missed all our Download fam so much and can't wait to see you all again. This is going to be epic! \m/
For more details on the Events Research Programme and the testing procedure, please see here:  Please find our pilot ticketing T&Cs here.
---
---
Everything You Need To Know About The Download Pilot!
Tickets to the Download Pilot event are now SOLD OUT.
You can still purchase RIP upgrade options here
In the hallowed grounds of Donington Park.
Gates open at 2pm on Friday 18th June. Music starts at 5pm. Music will finish at 11pm on Sunday 20th June. Last entry on Friday is midnight, however you can arrive on Saturday if you can't make it for Friday. You can leave Sunday night or Monday morning.
It's camping AND the arena all in one! The arena features two stages, a Main Stage and a big top with the Second Stage. The camping area will have showers and toilets. Unfortunately there are no lockers on site. You can see a map of the event above.
Yes, you can attend. If you need to bring a Companion/Personal Assistant/Carer, first buy your full price ticket, and then you can apply for an extra ticket at no additional cost.
On site there will be dedicated disabled parking and pick up and drop off, a dedicated disabled access campsite with accessible toilets and showers facilities. There will be accessible viewing platforms at the outdoor stage and the tented stage.
You can apply for the facilities you require as well as Personal Assistant/Carer tickets using our Access Requirements Form once you have purchased your ticket.
No, only weekend tickets are available.
Everyone will be camping and there will be food and drink will be available on site so there's really no reason to leave - plus, the music starts at 11am on Saturday and Sunday and you don't want to miss out! There are shower and toilet facilities in the campsites.
Yes. Alcohol limits are:
Cans of alcohol - one case (24) per person OR
3L box of wine OR
70cl of spirits decanted into a vessel (not glass)
OR you may bring a reasonable mix of cans/ wine/ spirits, e.g. 12 cans and 35cl spirits / 6 cans and 1ltr wine and 25cl spirits. Glass is not permitted, alcohol from glass bottles must be decanted. There will also be food and drink available on site, including a supermarket.
There will be no testing on site. Do your Lateral Flow Test and PCR tests at home before you arrive.
For more details on the Events Research Programme and the testing procedure, please see here:
Yes, a whole range of limited edition merch will be available.
No, the whole site is cashless. You can use debit/credit cards or apps on your phone, such as Google Pay and Apple Pay. Cash won't be accepted anywhere on site.
ITEM

ARENA

CAMPSITE

Aerosols over 250ml

N

N

Airhorns and megaphones

N

N

Alcohol *see below for restrictions

Y (not excessive amounts)

Y (not excessive amounts)

Alcohol if not in glass bottles or in the possession of an under 18.

y

Y

Animals (Other than Guide Dogs or Hearing Dogs)

N

N

Any Alcohol in possession of anyone under 18

N

N

Any Goods for unauthorised trading

N

N

Any Goods with unauthorised festival logos

N

N

Any items which may cause danger, offence or disruption to any other person

N

N

Any items which may reasonably be considered for use as a weapon

N

N

Audio Recorders

N

Y

BBQs

N

Y

Blowtorches

N

N

Cameras, film or video equipment

Y* (Lens <6")

Y

Camping Equipment

N

Y

Cans

Y

Y

Chairs

Y

Y

Cutlery

N

Y

Deodorant Roll On

Y

Y

Drinks Bottles (other than sealed plastic water/soft drinks bottles under 500ml)

Y

Y

Drones

N

N

Excessive Amounts of Cigarettes (more than personal consumption)

N

N

Excessive Amounts of Food (more than personal consumption)

N

N

Firewood

N

N

Fireworks/Pyrotechnics

N

N

Flags with Poles

N

Y (there will be some exclusion zones for this)

Flags without Poles

N

Y

Flares/Distress Flares

N

N

Food Hampers / Cool Bag / Boxes

Y

Y

Generators (Exemption for generators in caravans)

N

N

Glass

N

N

Golf Umbrellas

N

N

Illegal Substances

N

N

Individual camping gas canisters (exemption for gas canisters fitted within campervans).

N

N

Leatherman Multi Tools

N

Y

Legal Highs

N

N

Medication (if accompanied by a doctors note / prescription or if it is recognisable)

Y

Y

New Psychoactive Substances(NPS)

N

N

Nitrus Oxide and any associated equipment (Balloons, Co2 dispensers, cream dispensers)

N

N

Paper Lanterns or Sky Lanterns

N

N

Perfume in small bottles

Y

Y

Petrol Burners

N

N

Portable Laser Equipment and Pens

N

N

Small hammers for pitching tents

N

Y

Sound systems

N

N

Tin Openers

N

Y

Umbrellas

N

N

Unidentifiable Subtances

N

N

Unofficial Tabards or Reflective Jackets

N

N

The following stoves:

SEE BELOW

SEE BELOW

Blowtorches or gas canisters

N

N

Campervans/caravans with professionally fitted gas canisters

N

Y

Firelighter stoves and Firelighters

N

Y

Gas camping stoves or gas canisters

N

N (canisters will be confiscated and only the stoves returned)

Gel Stoves (e.g the Greenheat Base Camp Cooker) and gel fuel

N

Y

Methylated spirit stoves, and methylated spirits

N

Y

Petrol, kerosene, or paraffin stoves or liquid fuel

N

N

Portable stoves with gas canisters built in (stoves will be returned)

N

N

Solid fuel stoves and solid fuel (e.g briquettes, or biofuel pellets, not firewood)

N

Y

Trangia stoves, excluding gas models

N

Y
*Alcohol limits are:
· Cans of alcohol - one case (24) per person OR
· 3L box of wine OR
· 70cl of spirits decanted into a vessel (not glass)
· OR you may bring a reasonable mix of cans/ wine/ spirits, e.g. 12 cans and 35cl spirits / 6 cans and 1ltr wine and 25cl spirits.
** In the Arena cameras are normally permitted for personal use. Cameras with lens of over 6" will not be allowed through the Arena entrance. Professional cameras and video / audio equipment are strictly prohibited. Live video / audio recordings made without the permission of the artiste or premises licence holder are prohibited.
Yes! No social distancing or masks will be required once on site.
Once you have shown proof of your negative test - this will be done at the first check point at the entrance to the arena. You will still need to follow current COVID guidelines in regards to masks and social distancing in the car parks and drop off/pick up points.
We will have a very limited number of RIP upgrades available including RIP Camping, RIP Classic Bell for 2 or 4 and Campervan plots, all situated in Park Farm.
The RIP upgrades do not include a festival ticket, you must already have a festival ticket in order to purchase the RIP packages.
You can purchase RIP upgrades for the Download Pilot HERE
We are working on a much smaller site than a normal Download so please note there will only be campervan plots in RIP and these are strictly limited.
Yes, our official coach partner, Big Green Coach, is operating socially distanced coach services from 10 locations. All these coaches arrive on the Friday and depart on the Monday. Return coach travel from: Birmingham, Birkenhead, Bradford, Edinburgh, Glasgow, Leeds, Liverpool, London (Victoria), Manchester and Sheffield. For more details and to book please visit https://www.biggreencoach.co.uk/events/download-pilot-test-event-coach-travel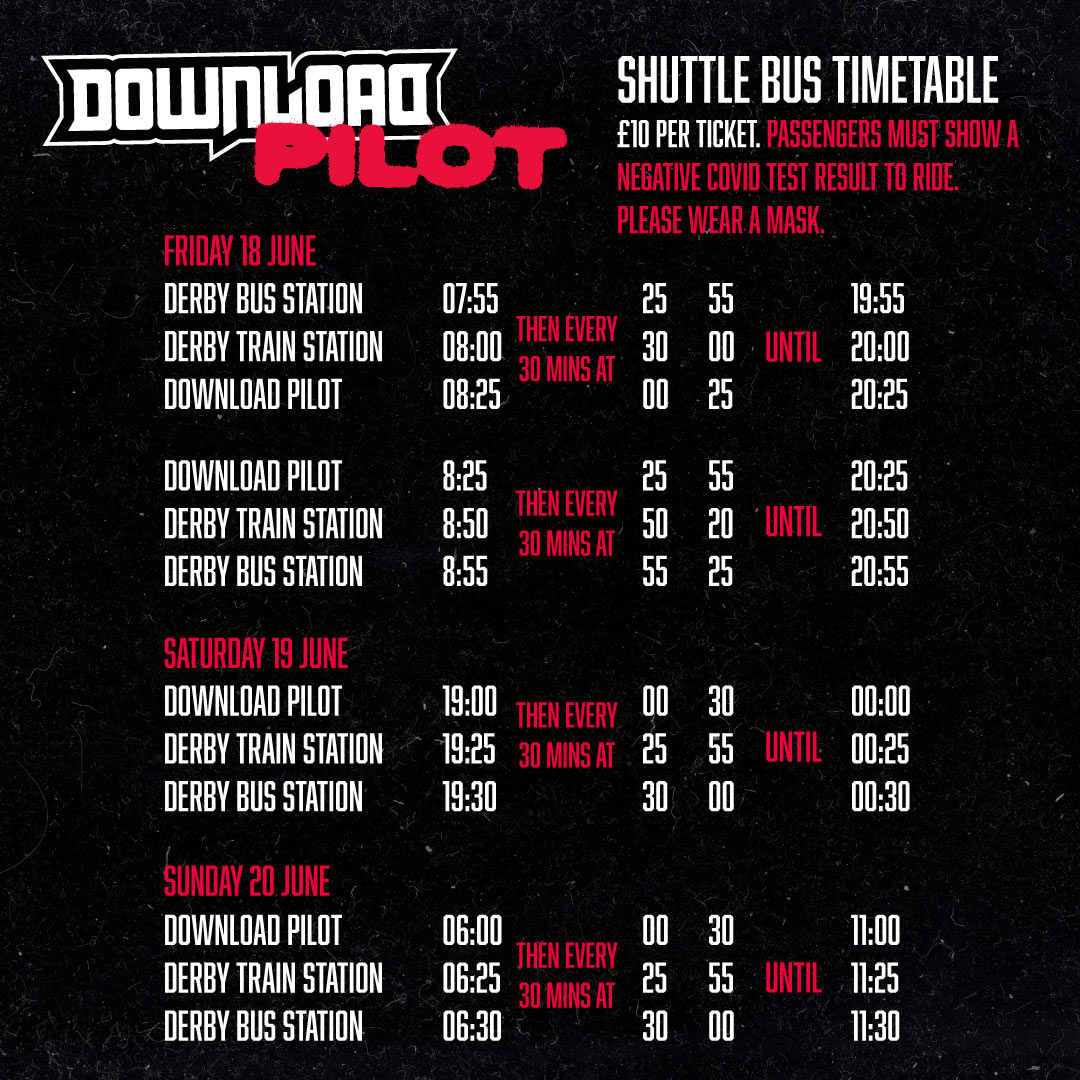 ---